The MP3 player is a positive mind pump that fills my mind with positive things. It never gets tired or discouraged. It never feels negative or complains. It pumps good things into my mind as long as the batteries have power. Wherever I am, I can push my mind in a positive direction and listen to the sound of my dreams.

Putting positive things into my mind is time intensive, and nearly all of the methods of doing it require my undivided attention. The positive mind pump is different; it continues to do its job even while I do other things. I can listen to positive recordings while I drive my car. I can listen when I am taking a shower and getting dressed in the morning. I can listen while I walk or jog. I donít need to give it my undivided attention to put good things into my mind.

If I was twenty years old with empty pockets and a mind full of dreams, I would do whatever it takes to purchase a cassette player and a collection of positive recordings. Even if it cost five hundred dollars, I would borrow the money so I could start listening to the sound of my dreams. It would be the best investment I ever made and return millions of dollars over a lifetime.

Copyright © 2013
---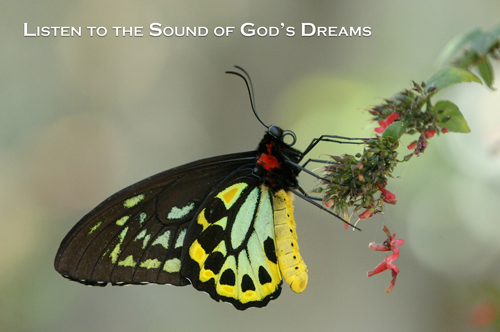 Whether you realize it or not, God has a dream for your life that is better than anything you can imagine, and you need to start listening to find out what it is.

When God places a dream in your heart, He also gives you the ability and power to make that dream come true. That's why He created dreams. He planted those dreams inside your mental garden, and if you water and nurture them, it's only a matter of time before they spring to life.

Although God put those dreams in your heart, you will forget they are there unless you remind yourself of their presence. If you never think about those dreams, if you never talk about them, or act on them, the seed will lie dormant.

God's dreams for your life never die. They are are waiting to germinate, and if you water them with faith and positive action, they will spring to life.

I lived in Saudi Arabia for sixteen years and spent hundreds of nights camping in the desert. Although the desert is dry and inhospitable, it still does not extinguish all life. When God designed the desert, he gave creatures special abilities that make it possible for them to survive in the most unlikely places.

Although the Arabian Desert is as dry as a bone, for a few weeks a year the rains come, and for about six weeks you can discover desert pools. These small collections of water might only be ten feet across and five feet deep, but for six to eight weeks, the pools come alive.

The first time I saw these pools, I couldn't believe my eyes. Desert shrimp swam like tadpoles in the water. The pools contained two different species of shrimp. These small wonders have a life cycle that lasts six weeks long, and if the pool lasts long enough, they will reproduce new shrimp eggs before they perish in the desert heat.

The eggs of desert shrimp remain dormant until the next major rain. They survive in the parched desert year after year waiting to come to life. A biologist friend of ours took some shrimp eggs that had been dormant for fourteen years, and he placed them in water. It wasn't long before the shrimp came to life and started their life cycle.

God placed dreams in your heart that are just like the desert shrimp, and when you say yes to God, those dreams germinate and miracles start to happen.

Don't believe the lie that your dreams are over because you are too old. Your life may be parched, but your dreams are still there waiting to spring to life. If God can bring the desert shrimp to life after fifteen years without rain, He can resurrect the dream that He placed in your heart. Working miracles is God's specialty.

No matter how many times you have failed, no matter how many mistakes you have made, no matter how far down you are, God's dream for your life is still alive. It's time to speak words of faith over your life. It's time to cast mountains of difficulty into the sea. It's time for you to live as if your dreams are possible and act as if you cannot fail.

---